Family Weekend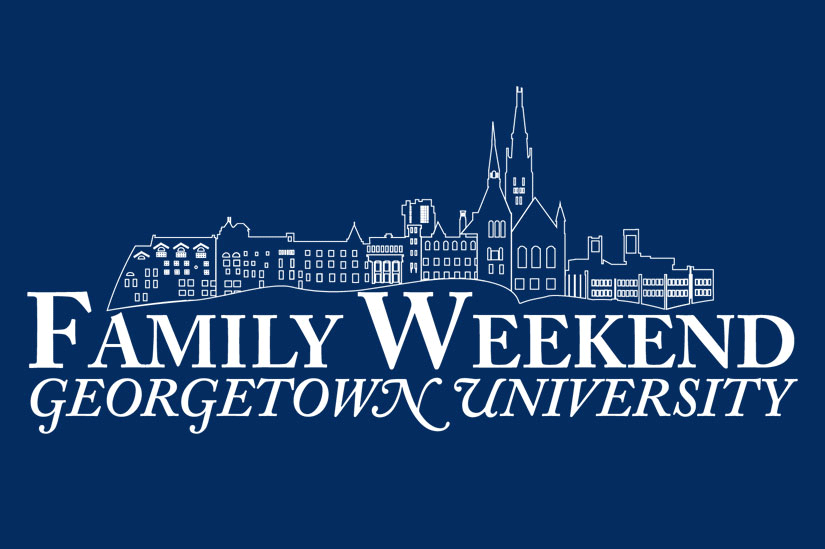 Each year we invite the families and friends of our students to the Hilltop to experience various aspects of university life at Georgetown. Throughout the weekend, families and their students are encouraged to attend faculty lectures, information sessions, sporting events, receptions and performances while exploring campus and our nation's capital. Family Weekend programming is geared toward first-year, sophomore, and transfer students and families; however, families of all current Georgetown students are welcome to register to attend. We hope that you can join us for Family Weekend this Fall.
Schedule of Events
Family Weekend 2020 will be October 16-18, 2020. 
Please click here to view the full schedule booklet. If you have any questions, contact us via email at family@georgetown.edu or by calling (202) 687-3906.
A copy of our reminder e-mail with additional updates can be viewed here.
Registration
The cost of Family Weekend covers the student and up to five family members. Major credit cards are accepted as form of payment online, and credit cards, checks, and cash are accepted during on-site registration.
Please see the information below regarding Family Weekend registration costs for last year and deadlines:
Early Registration ($60) – Available until September 2, 2019, at 11:59pm (Eastern Time)
Regular Registration ($65) – Available from September 3, 2019 – October 6, 2019, at 11:56pm (Eastern Time)
On-Site Registration ($70) – Available on-site at check-in on October 18-19, 2019.
The following events and meals are covered by the registration fee unless otherwise noted:
Deans' Welcome Receptions
Light Breakfast on Saturday and Sunday
Entry to the Hoya Family Weekend BBQ Lunch
Faculty lectures
Registration materials and publications
Shuttle to the National Mall, activities, and more!
If the registration fee poses a financial hardship for your family, please email family@georgetown.edu for information regarding fee waiver eligibility.  Requests for fee waivers are considered on a case-by-case basis. 
Check-In and On-Site Registration
When you arrive on campus, please check in and pick up your Family Weekend swag bag (one per family), and Family Weekend schedule book. On-site registration will also be available for families who have not yet registered. Please follow the guidance below to check in:
Check in at the Healey Family Student Center, which is located on the south side of campus. Directions to the HFSC are available on the attached campus map and also at https://studentcenters.georgetown.edu/information-services/how-to-get-to-hfsc.
Information Regarding the Family Weekend Football Game
The Football game taking place during Family Weekend is currently sold out. Check the Georgetown Athletics website for information on other Athletics events you can attend during Family Weekend and throughout the year.